Schematic and PCB CAD
EASY-PC VERSION 27 HIGHLIGHTS
---
Version 27
Version 27 Highlights
This years exciting new release includes many customer requested features and a dynamic new interface to the SnapEDA Component content supplier. The emphasis has been on extending the Easy-PC usability with over 45 new enhancements to make your design work much easier.
As well as the SnapEDA interface, Version 27 introduces new functionality and additional checks in the DRC option, new shape and track editing modes (any angle), Project management improvements, the ability to float the Library Manager, Bitmap resizing and scaling, new Component Bin selection, Sorting and Filtering, to name just a few of the exciting new features.
SnapEDA Component Content Interface
Enhanced DRC Dialog and New Checks
Net Distances Report
New Segment Modes for Shape/Track Editing
Project Improvements
Floating Library Manager Dialog
Dynamic Bitmap Resizing
New Visibility options in Colours Dialog
New Component Bin Settings
Plus more exciting features summarised here...
Access to over 10 Million FREE ready-to-use Components
Summer Promotion for supplementary libraries


Upgrading to Version 27
Upgrade any Windows version of Easy-PC to the latest release. Contact us with your requirements and we can get you working with Easy-PC 27 today. If you would prefer to have a quick look before you buy, you can download the Easy-PC 27 trial version using this link. 
---
---
SnapEDA Component Content Interface

A new integrated interface to the SnapEDA search engine has been added to Easy-PC 27. This component content resource provides you with over 10 million additional Parts ready-to-use and free of charge! Simply search the Part required and once found, drop it from the preview window into your design. It will also be added to your library for use at another time with having to download it again.
Component Previews
Pictorial views of the data found in the SnapEDA database are displayed in the Easy-PC browser. The CAD model for Easy-PC is then displayed as a Schematic Symbol and PCB Footprint in the preview window from where it can be viewed and inspected before downloading.
Components Stored Locally
Components and their symbols downloaded to your library can be further customised and modified to suit your own requirements. All footprints are built to the international IPC standard so their compliance is assured.
Manufacturer values added to Components
Where available, values such as manufacturer and Part Number are added to the Component during download to your Easy-PC design. This further reduces the time taken to create components and ensures they contain all relevant values needed for your Bill of Material (BOM).
---
Enhanced DRC Dialog and New Checks


Checking Options


The Design Rules Checking dialog has been enhanced to add additional facilities for checking within the current window, meaning a much more focused check on the design area being worked on. This alone saves a lot of iteration time. Sorting in the report has been improved, by Layer or error Type and you can also elect to show or hide Accepted Errors in the design.

New Checks


New checks have been added to the Design Rules Checking for Maximum Via Count on a net, Maximum Stub routing length and a check for PCB-only nets. The stub routing length check is between the edge of the pad to the nearest node, this is particularly important when designing high speed nets to prevent resonance occurring.
---
---
Net Distances Report

A new Net Distances report enables you to choose two or more nets from the PCB design and the program will calculate the minimum distance between each pair of nets. It will also indicate where the smallest distance occurs by use of optional error markers. This check and report is particularly useful if you need to analyse your design for certification purposes.
---
New Segment Modes for Shape/Track Editing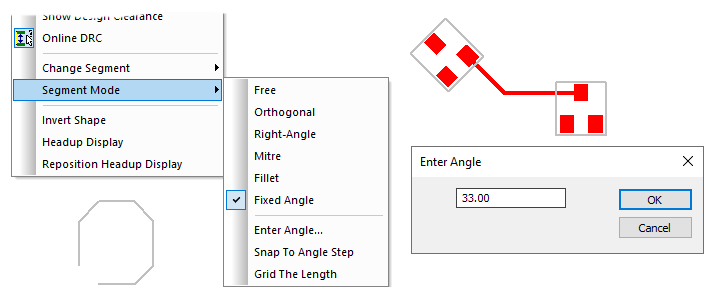 New Segment Modes for Shape/Track Editing

The segment mode editing capabilities have been enhanced to include a Fixed Angle option where the angle required can be defined. When editing tracks for example, this can be very useful when adding vias to a fine-pitched BGA where the track angle should be set to a non-45 degree angle increments, such as 135 degrees, or exiting tracks from a component rotated at non-45 degree angles. Switching between defined fixed angles and regular angles is automatic when in this mode to ease the process.
---
Project Improvements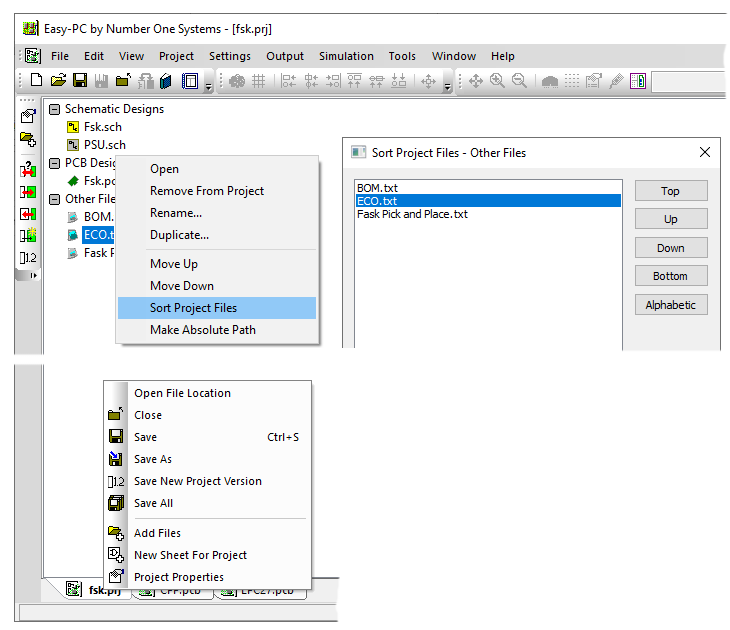 Sort Project Files
Enhancements have been made when working with Projects to improve productivity. The Project name is now shown on the caption bar next to the design name to indicate a Project is in use and its name. Within the Project Manager tab, the ability to sort Schematic files in the list as well as the 'Other Files' list associated with the Project has been added.
New Workbook Options
On the context menu for a workbook tab, you can opt to open the design at the file location using the Windows File Explorer and the ability to close other Schematic sheets has been added. All sheets in the Project will be saved at the same time when you save any one of the Schematic sheets.
Save Project Libraries
Also within a Project is the ability to save the Project Libraries from the File menu. If run from the Project tab, this will save Components, Schematic Symbols and PCB Footprints into a nominated library for just that Project.
---
Floating Library Manager Dialog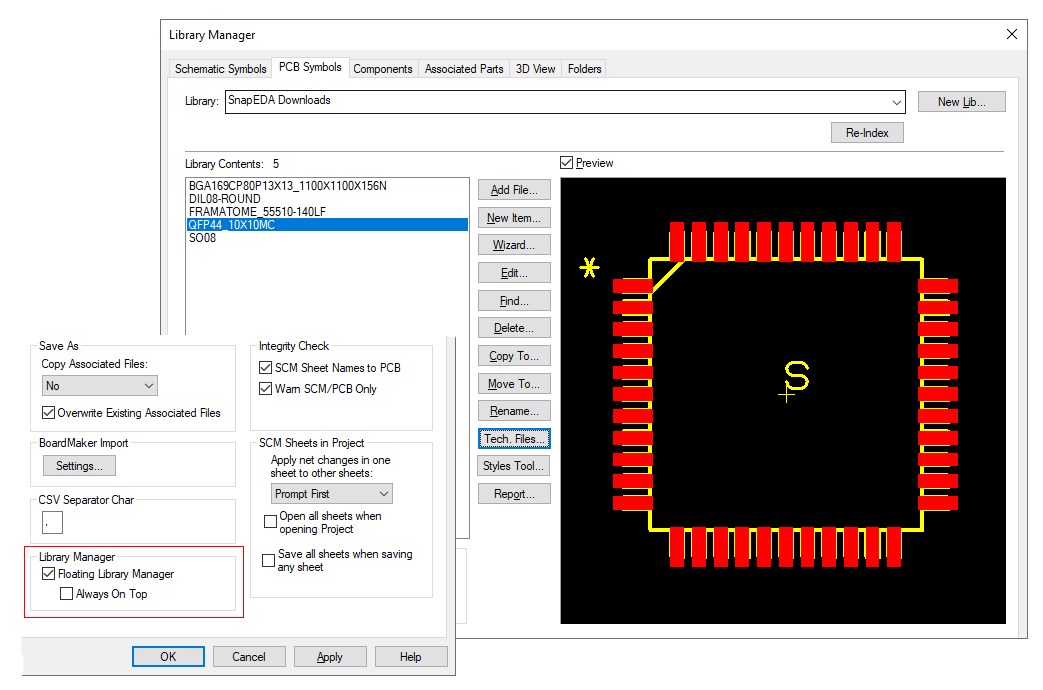 With the Library Manager set as Floating, you can spin through library editing and management with ease, and without re-running the Library Manager each time. You can now place the dialog on another screen so that your design view is unobscured. This dialog can also be set to be On-top so that it is prominent for use at all times.
---
Dynamic Bitmap Resizing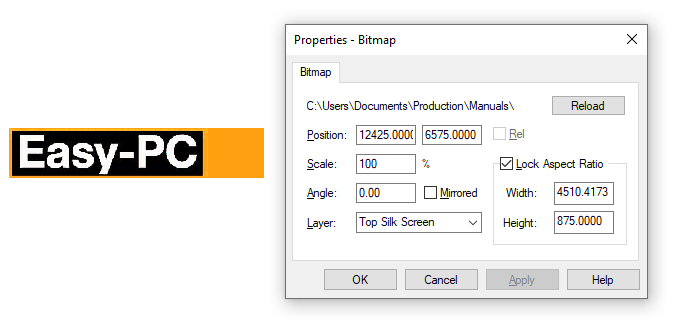 Bitmaps added to the design can now be scaled using percentage values and have their Aspect Ratio locked so that they can remain proportional. This along with the ability to drag the edge of the bitmap to resize it means far more control once used in your design.
---
New Visibility options in Colours Dialog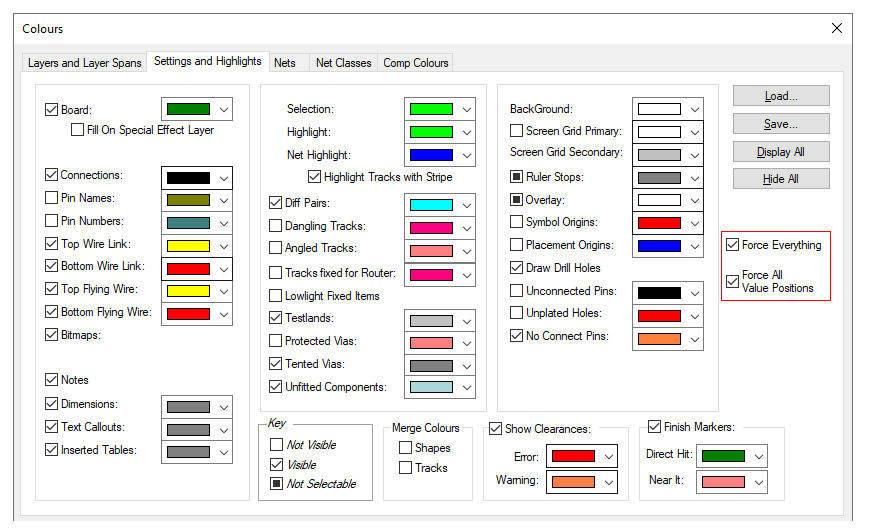 Force Everything On
Two new options in the Colours dialog enable you to Force Everything On and to Force All Value Positions on. These are particularly useful switches when searching for those elusive design items that are not actively on within the design. These switches work at a high level so they override all other switches in the Colours dialog. However, once used and set unchecked again, the previous colour settings are totally restored.
---
New Component Bin Options
New Quick Selections

New options within the Component Bin provide you with comprehensive selection, sorting and filtering facilities. From the context menu, selection can be made based on the same item type, such as same Group, same Symbol, same Component (type) and same number of pins on a symbol. The Select Browse option enables you to make selections based on more comprehensive criteria, such as items connected to a particular net or net class or on a certain component value name or value field.




Sorting and Filtering

The Sort and Filter option allows sorting to be made on the naming in the bin list and for it to be listed ascending or descending. The Filtering option means more refinement to the items listed in the bin, this is especially useful when starting a new design and there are many items to place. Once a filter is in place, the caption on the dialog will display the words [Filtered].

Place Around board

From the context menu in the bin, you can select the Place Around Board From Bin for fast initial placement once the board outline has been defined.



---
V27 Feature Summary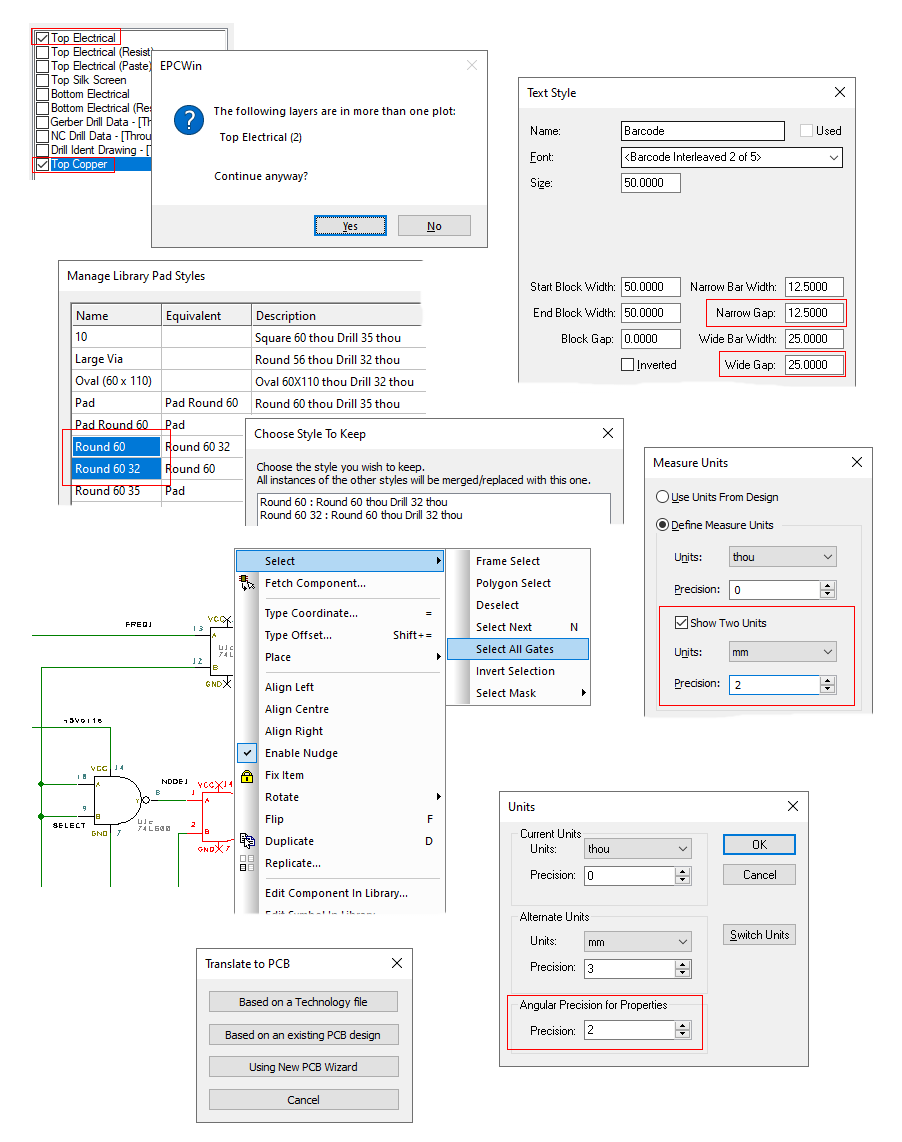 Acess to SnapEDA Component Content
Styles Tool Improvements in Library Manager
Edit Component - Name Ranges in Multiply Named Pins
Edit Component - 'Display As' feature in Multiply Named Pins
New options in Library Reports
Save (design) Copy As
Clear Recent List option from Add Component
Translate to PCB with additional options
Select All Gates command in design
Copy Shapes between different design types
Barcode Text Line Gap Additions
Set Angular Precision in Units dialog
Measure option to display Dual Units
Report Header - File Folder Command
Report Header - Date Commands now also show Time
Auto Save Job File in Plotting
Plot Report - Append/Overwrite
Pre Plot Checks for duplicate plot types
New PCB Drawing Borders in Library
Fully Supported under Windows 10 and 11
Continued use with the Component Search Engine
Access to the online Gerber file viewer facility
Benefit from our FREE technical support service





















---
Component Search Engine With Access To Over 15 Million Components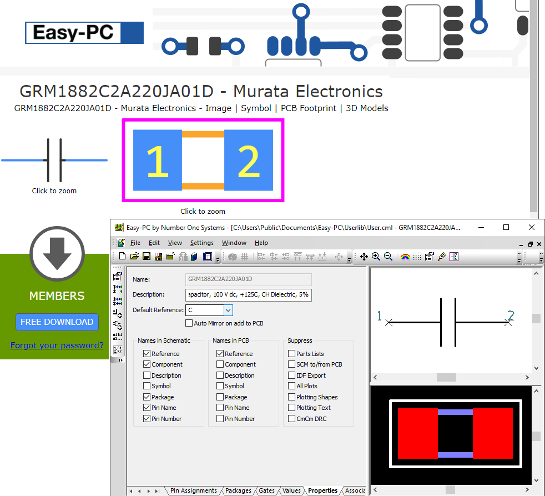 With the Easy-PC version 26 update, you get continued free access to the Component Search Engine. This provides you with over 15 million components and their symbols (Schematic and PCB) instantly available from the web site. This service is an unlimited access to content that can be interactively downloaded directly onto the end of your cursor, ready for placement in Easy-PC and automatically loaded into your Easy-PC library.
Manufacturer values added to Components
All manufacturer values such as Part Number and Price are added to the Component during download to your Easy-PC design. This further reduces the time taken to create components and ensures they contain all relevant values needed for your Bill of Material (BOM).
More information about the Component Search Engine
More information about the Component Search Engine can be found here.
---
Libraries
SPECIAL OFFERS - Library Upgrades
Pro-Library 8 Update The Pro-Library has over just over 121,000 associated Symbols and Footprints.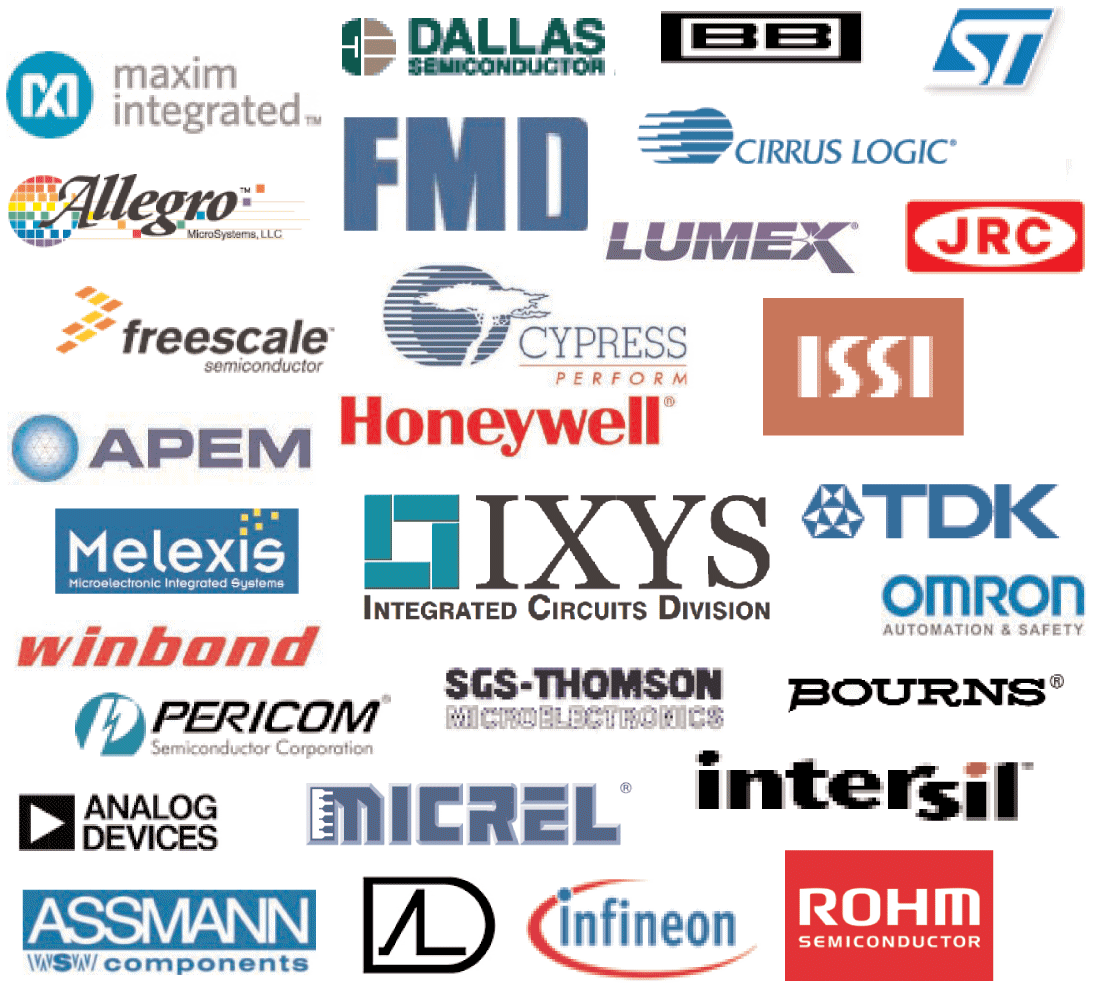 Micro Library 8 Update Over 14,300 Micro-controller components.

Connector Library 3 Update
248 additional Connector components were added to Connector Library 3 taking the total to over 20,000. Components have been added from the Tyco ranges; 1734261, 1734289, HPI, HPI_125, HPI_125SMT, HPI_125SRA and MiniCT.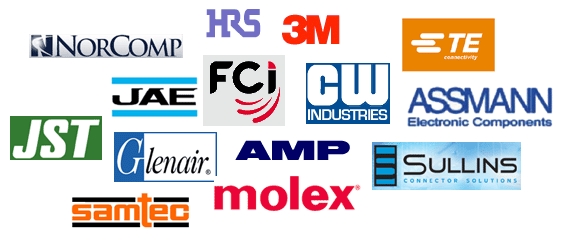 If you have a previous version of any library you may be eligible for special promotional prices. Click here for all the existing customer updates.
Click Here for more information on the Library pricing without a previous version.
---
Related Products
Tags: update, latest release, latest version, upgrade