EASY-PC VERSION 21 HIGHLIGHTS
---
Version 21
Version 21 Highlights
Dynamic Align
Modeless Properties Bar
Drag & Drop Text files
Library Manager Enhancements
Copper Pour Keepout Areas
IDF Export Enhancements
Automatic Breaking of Silkscreen
Upgrading to Version 21
Contact us with your requirements and we can get you working with Easy-PC 21 today. If you would prefer to have a quick look before you buy, you can download the Easy-PC 21 trial versionusing this link.
The Easy-PC update for existing customers of any pin variant. The yearly update usually has between 15 to 30 useful and customer requested new features. Read on for details of what is new in the current release.
---
Dynamic Align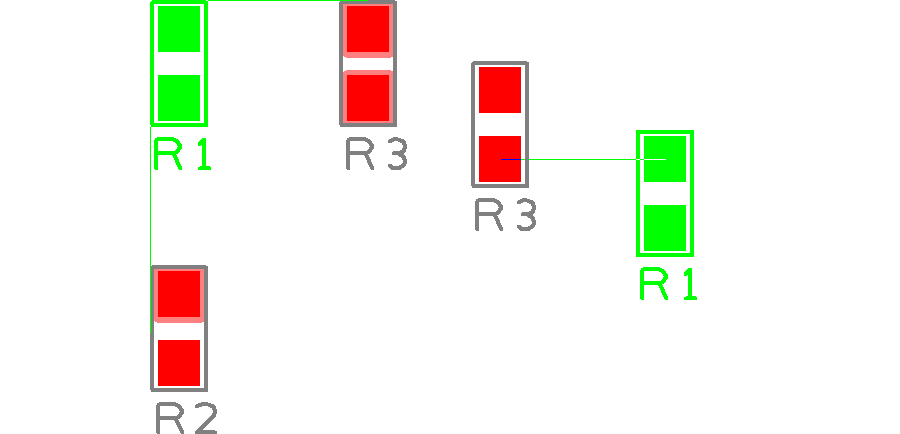 Auto-Interactive Guidelines to aid in item placement
In Easy-PC 21 we have introduced guidelines and snapping capability to aid when placing Components, Pads, Vias and Text. Guidelines will appear and the item will snap when a segment of the item is within a user-defined tolerance of another item.
User Definable Align Items
Users can define items that will be aligned to during move, these include Component Extents, Text, Pads, Vias and an item's original position.
User Definable Snap Tolerance
Users can define a tolerance which items will snap by, speeding up your layout process whilst giving you total flexibility and control over the means in which the snapping occurs.
---
Modeless Properties Bar
Properties Bar
A dockable Properties bar has been introduced to allow you to see the Properties of an item or multiple items in a modeless window. Many of the features available to you from within the existing Properties dialog (Context menu, Properties) are available in this dockable option, helping you to see and edit values for items without accessing a new dialog.
Common Properties
The dockable Properties bar also provides the ability to show only the properties common to all the items in the selection, allowing you to make changes to multiple items in just one click.
---
Drag and Drop Values from text files
Drag and Drop Values onto Components from text files
Drag-and-drop one or more text files, or a block of text from a text application such as Word or Notepad2 and drop it onto the application to add Values to Components.
Drag and Drop text files
Using Windows Explorer, you can select a text file and drop it onto the Values tab of either the Component edit dialog or the Component Properties dialog and Easy-PC will instantly add the new Values to your Component.
Select individual text items
Easy-PC 21 also allows you to select the required text from a text file and drag it onto the Values page for the desired component.
---
Library Manager Enhancements

List of Values
On the Components page of the Library Manager dialog, a new list of the Component Values is displayed in a list box to the right of the existing list of gate and footprint details.
Jump to & Edit Symbol Context Menu
On the Components page, you can right-click in one of the symbol preview windows and choose "Go to Symbol" or "Edit Symbol" from the context menu. These new commands will jump to the corresponding tab on the library manager dialog and preselect the symbol that is shown in the preview, or open the corresponding symbol for edit without having to go and find it in the relevant symbol tab.
---
Copper Pour Keepout Areas

Keepout Areas
Adding a Copper Pour Area to a power plane layer and designating it as a Pour Keepout will cause that region of the layer to be kept clear of copper on the resulting plane.
---
IDF Export Enhancements

DesignSpark Mechanical Output
A new DesignSpark Mechanical output has been formatted with specific commands to allow for the smooth transfer of data between Easy-PC and DesignSpark Mechanical.
Reverse Rotation of Mirrored Components
A new option for when reading in IDF data into some software packages that interpret the orientation of components on the back of the board as the angle you would see when looking at the board from that side.
Spaces in File Names
Control the file naming used in output for when some applications which do/do not require spaces in the naming.
Include Vias in Output
You can now suppress the drilled holes for vias from the output file.
Include Unplaced Components
Ability to include components from the component bin in the IDF output.
---
Layers Bar Enhancements

Define the current Electrical and Documentation layers
A black square outline around the colour square indicates both the default electrical and documentation layers. A simple click of the Layer's colour will enable it as the default layer.
Showing and hiding Powerplane layers
Powerplane layers are indicated by a small thermal pad icon to the right of the coloured square. Clicking on the thermal pad can show/hide the power plane.
---
Automatic Breaking of Silkscreen

Break Silk Screen
Silkscreen plotted over pads or drill holes can cause poor coverage of solder on that pad and lead to electrical failure. To avoid this, Easy-PC 21 introduces the automatic breaking of silkscreen within a Pad or Via shape.
---
Additional V21 Features

Fix and Unfix Multiple Items
Toggle units from Technology Dialog
Report Pad Style Exceptions
BOM Composer Item Quantity
Delete used Non-Electrical layers
Embed Fonts in PDF output
Commands for displaying of items and justification of text
Draw Drill Holes hatched
Fully Supported under Windows 10 [32 & 64 bit]
Benefit from our FREE technical support service
Support through a manned phone/Skype & email
---
Libraries
SPECIAL OFFERS - Library Upgrades
Pro-Library 8 Update The Pro-Library has over just over 121,000 associated Symbols and Footprints.

Micro Library 8 Update Over 14,300 Micro-controller components.

If you have a previous version of any library you may be eligible for special promotional prices. Click here for all the existing customer updates.
Click Here for more information on the Library pricing without a previous version.
---
Related Products
Tags: update, latest release, latest version, upgrade