Schematic and PCB CAD
EASY-PC VERSION 25 HIGHLIGHTS
---
Version 25
Version 25 Highlights
The emphasis this year has been about making Easy-PC work smarter for you. We have added over 50 new features, all requested by our valued customers. Every single feature can be traced back to a named customer in one of over 105 countries that Easy-PC has been sold into around the globe: 
Differential Pair Routing
Tented Vias
New DRC checks
Resize Shape
Autoplace Component Names
Recent Used Components List
Copper Coverage Report
Plus other additional features summarised below
Continued access to over 15 Million Components
Summer Promotion for additional libraries
Read the V25 Supplement here and view all the technical details...
Upgrading to Version 25
Contact us with your requirements and we can get you working with Easy-PC 25 today. If you would prefer to have a quick look before you buy, you can download the Easy-PC 25 trial version using this link. 
---
---
Differential Pair Support

Differential Pairs are now supported in Easy-PC. Functionality has been added to enable their definition, parameters, addition, editing, checking and reporting.


Net Class Definition and Rules
The Net Class dialog allows the enabling of Differential Pairs. Within this, the pair gap rule allows you to set the gap so that it can differ from the Track to Track Spacing and the definition of the Diff Pair Skew; the value of the difference between two Diff Pair tracks. Any net with the suffix on its name of _P and _N that matches the Net Class is deemed a Diff Pair and as such can be routed as a Pair with the rules applied.
Diff Pair Routing

Once the Pair is identified in the design, the Diff Pair option enables to you start routing without further setup. Options are available to automatically create your starting tracks from the source pads before collecting the tracks together to form the Diff Pair. While routing, the Diff Pair Gap will be adhered to. When using Change Layer, a pair of Vias will be inserted with suitably spaced tracking added to enable the Diff Pair to continue on the opposite layer. The Show Legal Completion Path option will aid you to identify the final entry point to the target pads, and with Auto Completion enabled, a double-click will finish the Diff Pair to completion. The design tooltip is enhanced to display rule lengths for the Diff Pair during editing with a unique highlight Colour in Display aiding identification of Diff Pairs in the design.

Nets Bar Shows Diff Pairs

The Nets Bar displays the new Diff Pair Skew rule and actual Skew value difference as the Diff Pair is being routed in your design, this is all done dynamically in real time.
DRC and Reporting of Diff Pairs

Once Diff Pairs have been added, Design Rules Checks can be run to ensure their length and skew have been adhered to. Reports are available for Diff Pairs to ensure completeness of the design process and validity of the Diff Pairs.
---
Tented Via Support


Easy-PC 25 adds methodology for specifying whether or not vias are to be 'tented'. A tented via is one that is covered with solder resist during the manufacturing stage. In order for this to be processed, the via that is to be tented must be identified in the design and a specific output generated.
Tented Vias in Net Class

The Tented via property is defined in the Net Class so that specific vias can be identified. The identification can be one of three possible states; None, All and Individual. None will be the normal state of vias, 'All' is every via on this Net Class will be selected for tenting, 'Individual' means that vias can be selected for tenting using their Via Properties. This means specific control is available where required.
Display and Plotting of Tented Vias

Tented vias are easily viewed in the design using a small cross for instant visibility and along with a special unique colour defined in the Display dialog. When vias in the design use this Net Class, plotting Tented vias is performed as part of your normal process and forms part of a plot or as a special plot as required using a new selection in the plot settings.
---
---
New Design Rule Checks

New DRC checks have been added to enhance the checking of your design so that errors can be rectified at an earlier stage of the design process. Additional checks for Undrilled Pads and Via to SMD Pad distance on the same net are included as well as a new Track Spacing option for Teardrops.

Undrilled Pads check
The Undrilled Pads check is used to check for through-hole pads that are identified with no drill hole, thus plating cannot occur during manufacture.


Via to SMD Pad Distance Check
The Via to SMD Pad distance is a check used when the via is on the same net as the SMD pad. If too close, although electrically legal, this small gap can cause problems in manufacture, especially within a solder paste mask.


Track Spacing option for Teardrops
The Track Spacing option for Teardrops is an override selection and check where the Track spacing can be used between the teardrop shape and copper areas meaning tighter spacing can be achieved.




---
Resize Shape

Resize Shape
The Resize Shape enables shapes to be replicated and resized. The resizing can be both larger and smaller than the original shape selected. The ability has been added to grow or shrink Areas, Board, Copper or Doc shapes, therefore having many uses. For example, copy a board outline, change its Type to a Copper Pour Area, change its layer than then shrink it to fit inside the original board outline. This option can also be used in the Schematic design and symbol editors too.
---
Autoplace Component Names in PCB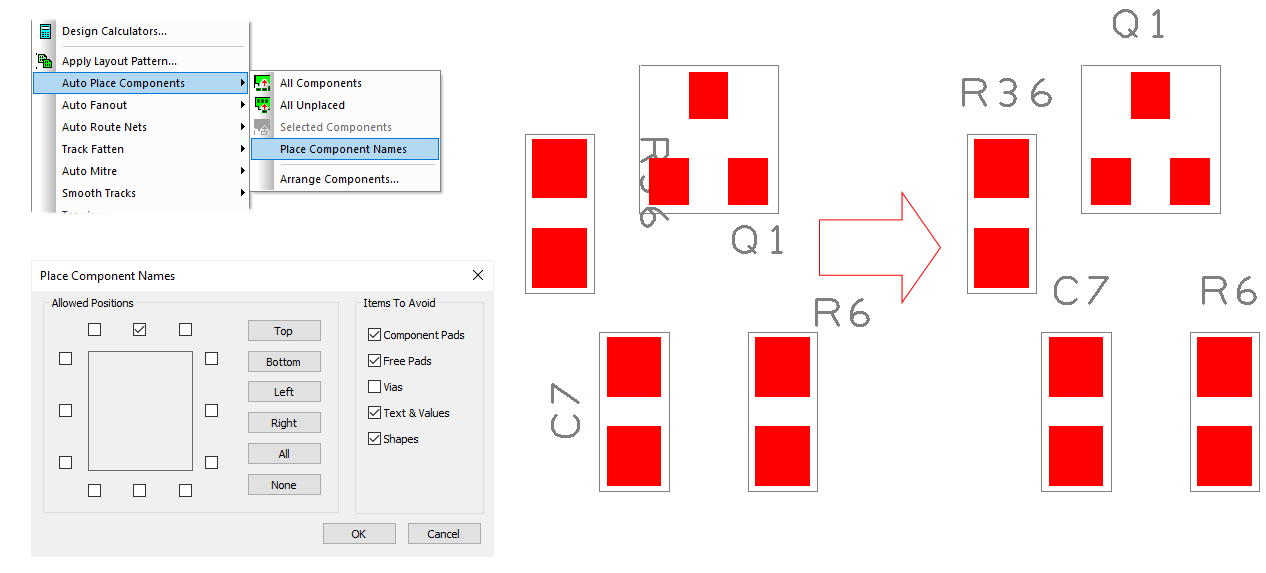 From the Autoplace menu, the new Place Component Names option in PCB enables the smart placement of component names based on the current component position in the design. This means, where components have been rotated in the design along with their names, this new tool will rotate and position them into a usable orientation and with options to avoid design obstacles such as Vias, Pads, Shapes and more. A much cleaner looking silkscreen layer for your PCB can be produced which not only makes it more manufacturable but also more readable for servicing later on.
---
Recent Used Components List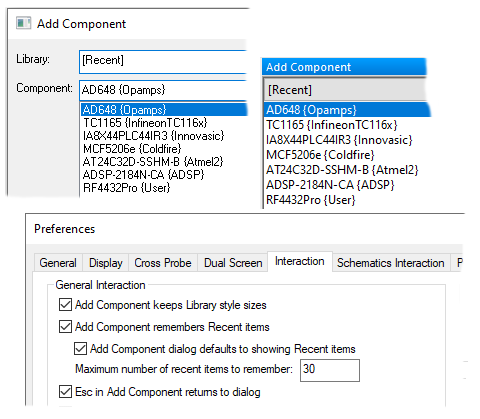 Dialogs which show library content, as used in Add Component, the Add Component Bar and Change Component options can now optionally show a list of Recent items in addition to [All Libraries] and [Current Design]. This provides you with the ability to remember the most recent components you have added to your designs. Each component added or used from any of these locations will be automatically added to the top of this list, so the most recently added or used components will always be visible, ready for use again.
The operation of this feature is controlled by independent settings on the Interaction tab of the Preferences dialog. These allow you to enable/disable the whole 'recent items' feature, control how many items are to be remembered (the default is 30) and to specify whether to always display the [Recent] list when you open the Add Component dialog.
---
Copper Coverage Report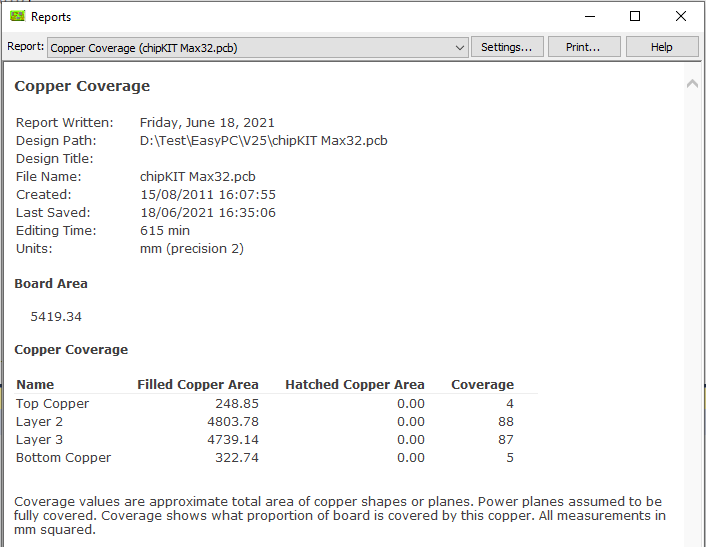 This new report lists the total area of filled/hatched copper shapes by layer, including the percentage of the board area covered by this copper. When producing multi-layer PCBs, it is highly recommended to balance the percentage of copper on each layer so that the board doesn't bend and warp during manufacture. When using copper areas, it is preferable to use hatched copper too. The report also shows hatched copper coverage.
---
Additional V25 Features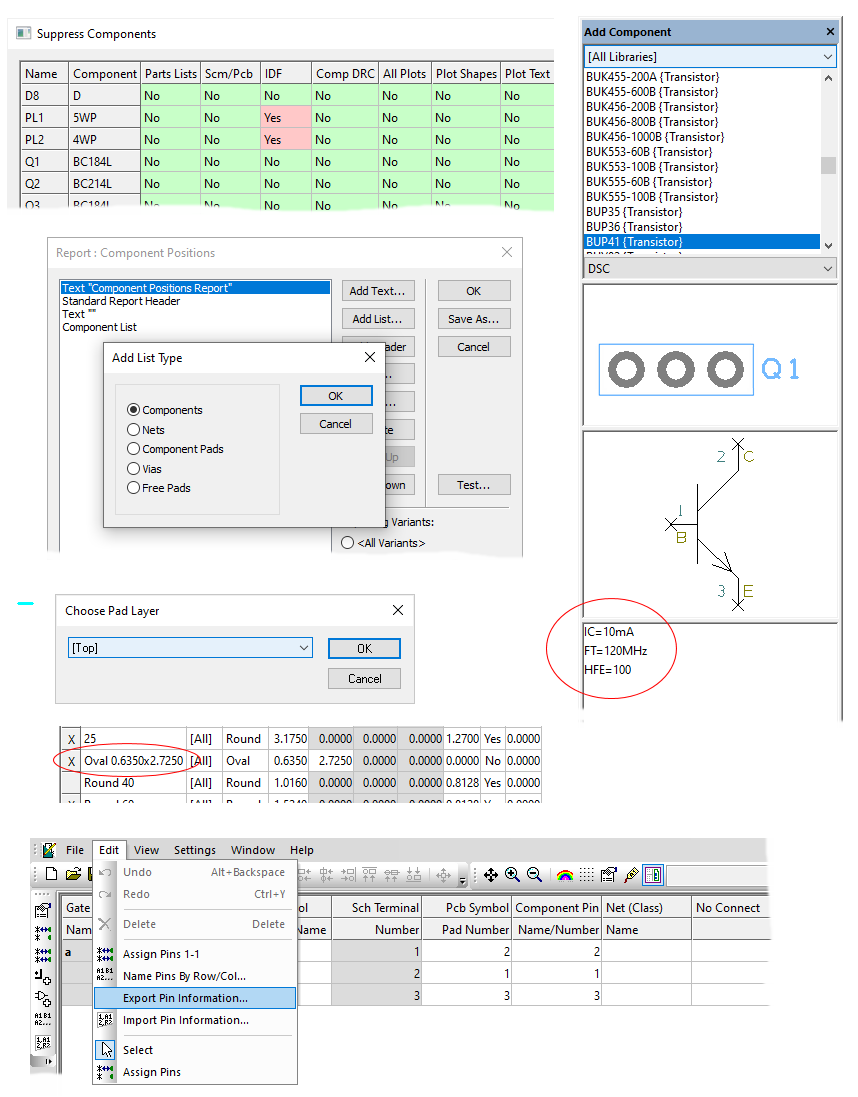 Highlight Net across Project

Component Values dialog, Rename Value name option

Component Description on dialogs
Add Component Bar shows Values
Free Pad selection in Custom Report
Any angle of PCB Item in a Panel Design
Shape To Pad option
Component Suppression dialog
Export Pin Information from Component Editor dialog
Fully Supported under Windows 10
Continued use with the Component Search Engine
Access to the online Gerber file viewer facility
Benefit from our FREE technical support service
Support through a manned phone & email




























































---
Component Search Engine With Access To Over 15 Million Components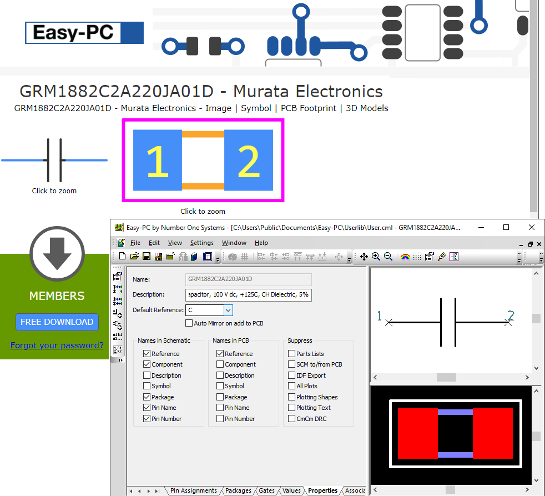 With the Easy-PC version 25 update, you get continued free access to the Component Search Engine. This provides you with over 15 million components and their symbols (Schematic and PCB) instantly available from the web site. This service is an unlimited access to content that can be interactively downloaded directly onto the end of your cursor, ready for placement in Easy-PC and automatically loaded into your Easy-PC library.
Manufacturer values added to Components
All manufacturer values such as Part Number and Price are added to the Component during download to your Easy-PC design. This further reduces the time taken to create components and ensures they contain all relevant values needed for your Bill of Material (BOM).
More information about the Component Search Engine
More information about the Component Search Engine can be found here.
---
Libraries
SPECIAL OFFERS - Library Upgrades
Pro-Library 8 Update The Pro-Library has over just over 121,000 associated Symbols and Footprints.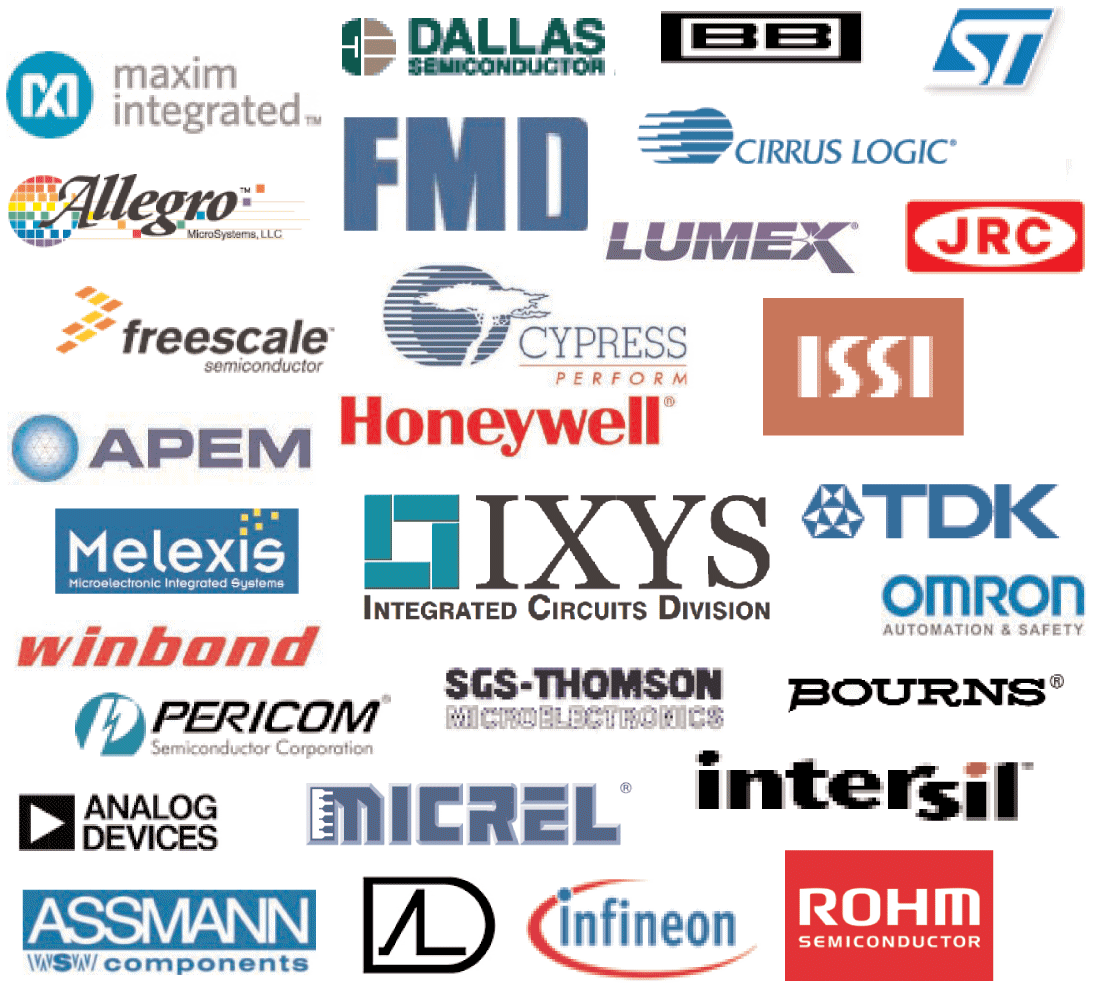 Micro Library 8 Update Over 14,300 Micro-controller components.

Connector Library 3 Update
248 additional Connector components were added to Connector Library 3 taking the total to over 20,000. Components have been added from the Tyco ranges; 1734261, 1734289, HPI, HPI_125, HPI_125SMT, HPI_125SRA and MiniCT.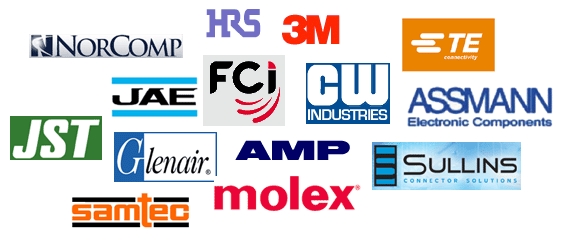 If you have a previous version of any library you may be eligible for special promotional prices. Click here for all the existing customer updates.
Click Here for more information on the Library pricing without a previous version.
---
Related Products
Tags: update, latest release, latest version, upgrade